Even though I haven't posted any bike riding adventures I am still riding every week. I am trying to ride as many nights as possible but sometimes the weather gets in the way. I lost a little time last weekend too because I took a side trip to Washington D.C. but that's a story for another day.
When I got home from work on Friday afternoon I decided to take a ride because the temperature was 70 degrees and bright sunny skies. There was a wind out of the west so I decided to head that direction first that way I would have the wind at my back for the ride home. I rode on the Old Plank Trail here next to the apartment. The Old Plank Trail stretches from Sheboygan to Greenbush and is 17 miles of rolling hills. The surface is asphalt but for an asphalt surface it isn't all that great. I decided to ride out at least to the spot I stopped at once before I thought that would be a good warmup for my ride on Saturday.
The spot I stopped at before is on top of a short but steep hill on the trail located just west of Plymouth. The hill is a good workout just before turning around. The last time I got to the top of the hill I stopped and sat down on a bench to rest, looked to the west and I could see about two miles across a valley. The trail goes down into the valley and then climbs back up out of the valley on the other side. That day I could hear it calling my name begging me to climb up out of the valley. Since the days were shorter 3 weeks ago I didn't want to run out of daylight before I got home but I knew I would be back.
Friday night I was back and after a brief rest and refreshing drink of water at the top of the small steep hill I headed for the valley and yes it was calling my name again. Down I went to the bottom for about a mile then I started up the other side. Up, up, up, climb, climb, climb, I wasn't sure I was ever going to get to the top but I did after another mile. Finally there I was on the other side about 2 miles from the end of the trail and another smaller valley to cross to get there. I decided to turn around here because I didn't want to be too sore for tomorrows ride. It was an easy ride going back all I had to do was point myself downhill and coast. For the next mile I hardly peddled at all in fact I was on the brakes so I didn't build up too much speed and go off one of the sharp curves on the trail.
Saturday was to be another beautiful Wisconsin day, 70 degrees and sunny. My plan for today? Find Lake Michigan by bike trail. You see the Old Plank Trail ends about the city limits of Sheboygan and then you have to pick up the city trail that consist of city streets, bike paths and sidewalks. The city trail is marked fairly good with a couple of areas leaving you to guess what way to go. The Old Plank Trail ends just on the other side of this tunnel.
This tunnel takes you under the xway that travels between Milwaukee and Green Bay. This tunnel is not as impressive as some that go through mountains but for now it's all I got. If you look real close to the lower right you will see snow and ice. Yes we still have a little snow hanging around refusing to go away.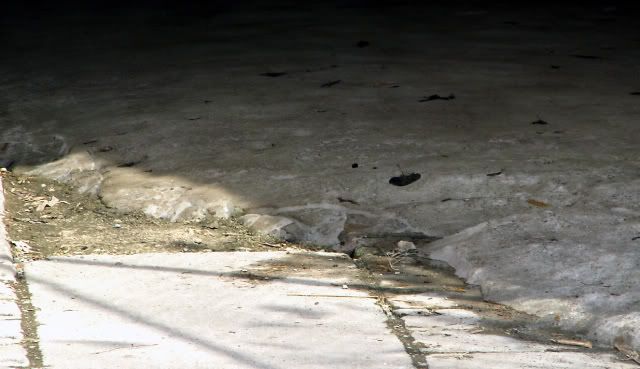 Once I was on the other side I picked up the bike trail signs that would lead me to my destination..........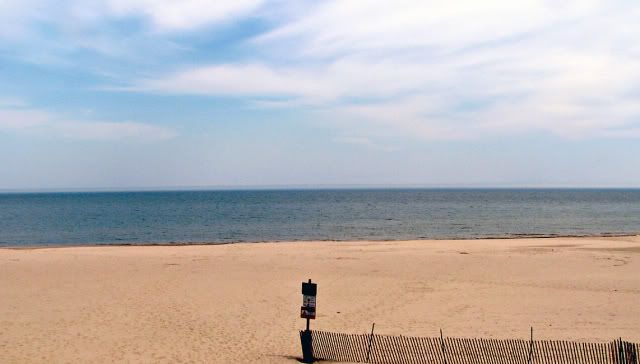 .....Lake Michigan.
I love the shores of the Great Lakes an I can spend the day there (I have the sunburn to prove it too.) It's 8-1/2 miles from my apartment to this point.
Once down by the lake there is another bike/walking path that follows the shore for 2 miles.
It was such a nice day even the birds were enjoying themselves.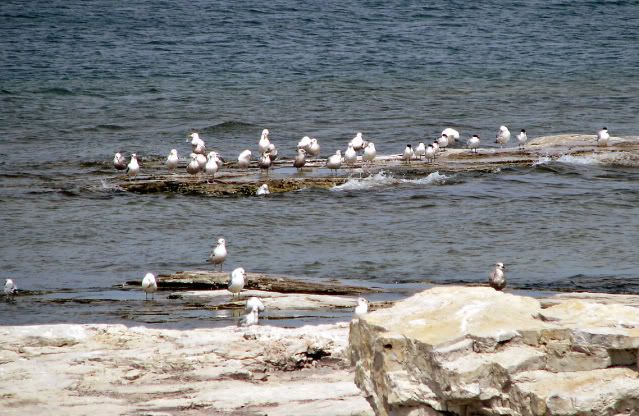 And you know summer is coming when you see the geese flying north.
I followed the bike path as far is it went then I rode on the back streets of Sheboygan along Lake Michigan for a couple of more miles before I decided to turn around.
I decided to ride along the boardwalk of the Sheboygan River before I picked up the bike path back towards home. If you don't remember the boardwalk here is a picture from last summer.
And if you are curious what I am rolling on these days I took this picture to show you.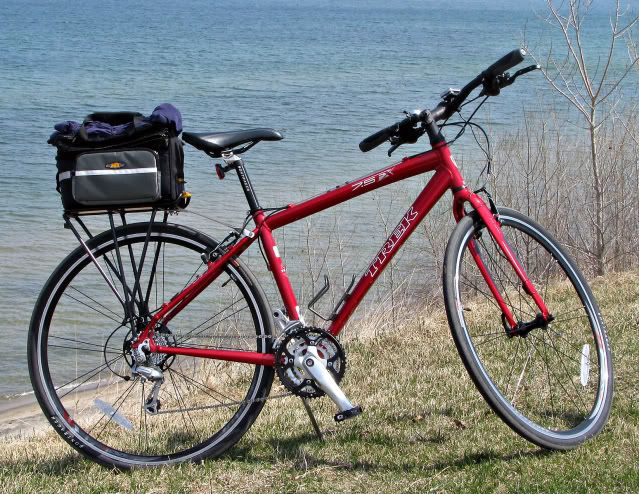 Yep that's how I roll.