Yeah I know I have been a little lax lately on my posting. I'll try not to let it happen again but there are times it gets to be a drag. Sometimes when I get home from work the last thing I feel like doing is getting back on the computer. That's what I have felt like for the last two weeks. Plus I was getting tired of fixing pictures and needed a break. The post should start flowing a little more freely now.
This will the the last of the Christmas pics because I don't have anymore anyway. I took some of these photos and some unknown photographer took the others.
Last year a new Christmas tradition was started at little sis's house. Not only was Christmas moved to her house but she even did away with the annual Christmas turkey and made prime rib. Since I wasn't there last year I was a little upset to say the least. I have been wanting to cook a prime rib for awhile now but with only me and the wife here in Wisconsin I just isn't feasible. So imagine my delight when I would be there this year and yes there would be prime rib again. Now imagine my delight this year when not only were we going to have prime rib this year but I could also cook it on the grill. This was like the best Christmas gift for me because if you know me you know I love to cook on the grill.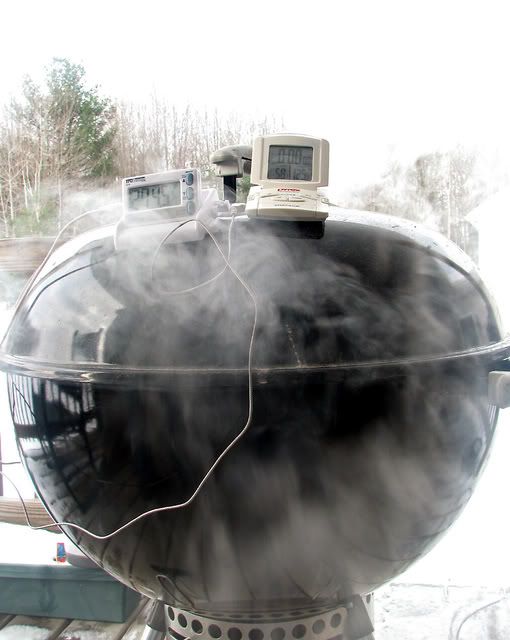 Look at the smoke rolling out of that grill, ooooh it smelled so good. It was just me and the brother-in-law out on the deck grilling that 17 pound piece of meat in the 20 degree weather soaking up the sun and taking in the smells.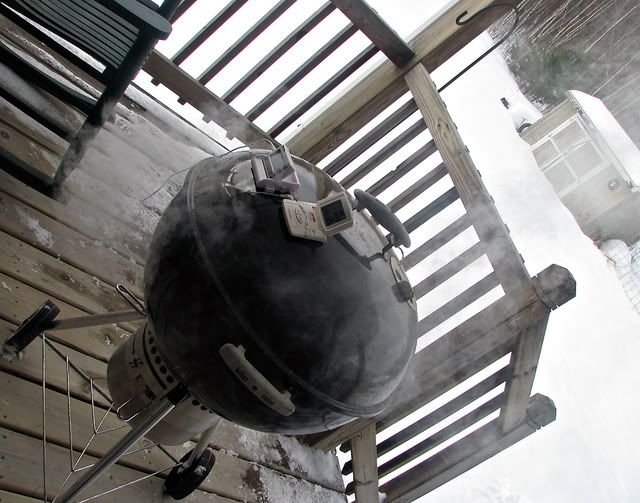 After a couple of hours we lifted the cover off the grill to check the slab of meat and look what we found.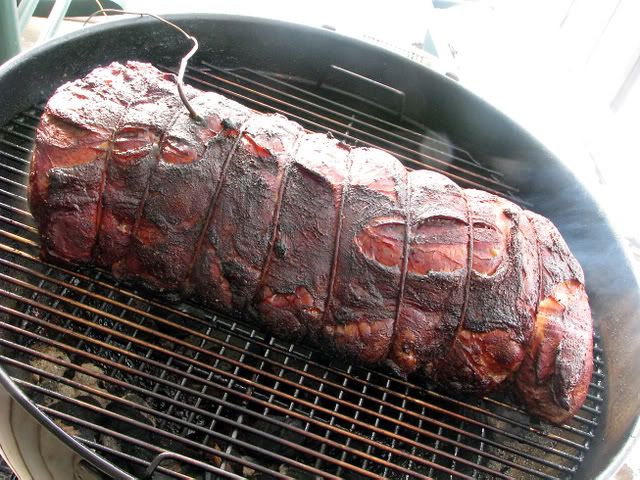 Mmmm doesn't that look good.
Meanwhile back inside games were being played by the kids. First was the newer version of Twister.
While the rest of use were having fun watching Katie beat herself in a game of Twister the two behind her were busy in their own little world looking at photos the old fashion way, in a photo album.
After the new Twister it was time for the "grown up" kids (and I use grown up loosly here) to play the old fashion Twister.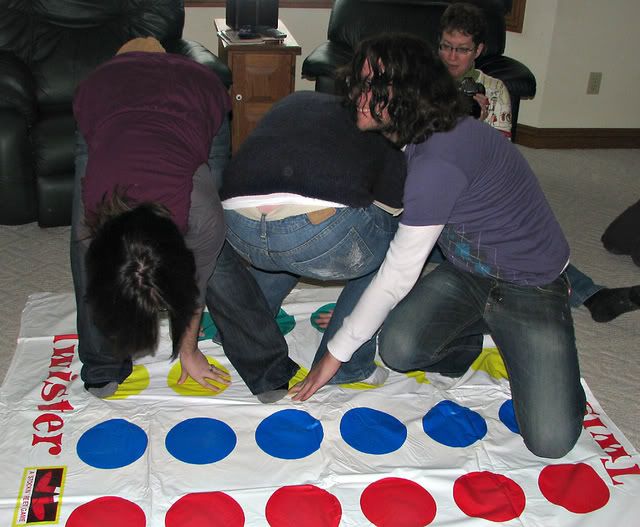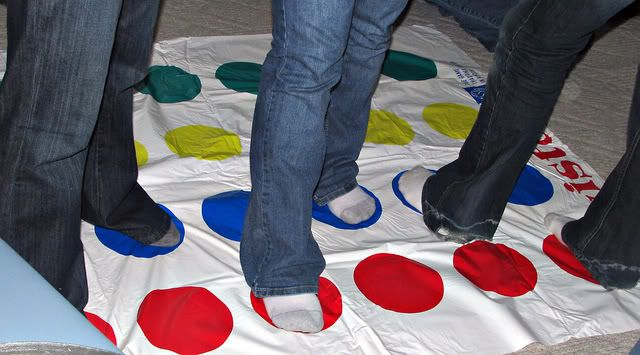 Now can anybody see what is wrong with this picture? Besides the hole in the bottom of his pants.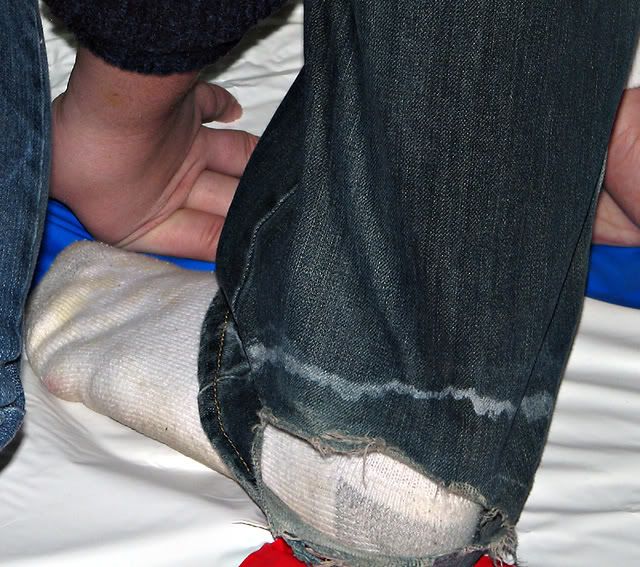 That's right! His foot isn't on any color. How did he get away with that? I think his aunt has taught him how to cheat.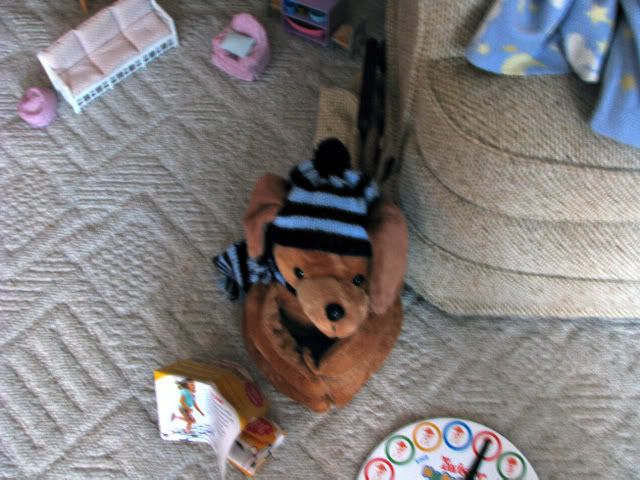 I'm not sure about this picture, what do you suppose the artist is trying to say?
Let's get back to the prime rib, it's time to cut it up.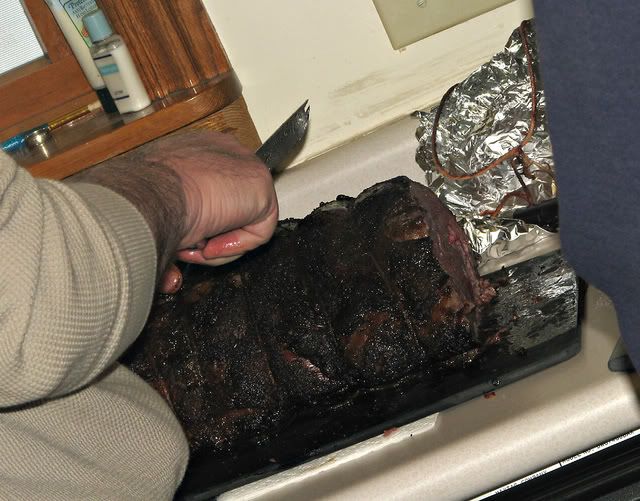 And now the table scape.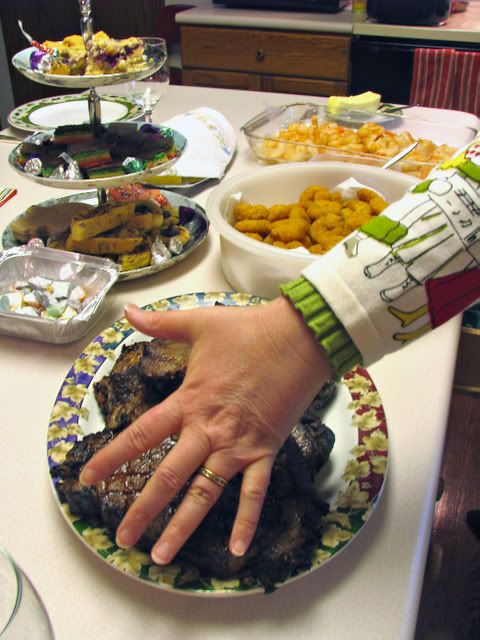 Hmm, something wrong with that picture and when I figure it out I will let you know what it is.
Well that's it, Christmas 2008, hopefully all of us will get to do this again next year. Who really needs Christmas gifts when you have good food and family around to celebrate it with.
Yippe Kay Yay.