Dateline December 23, 2008
Are you ready for a throwdown? Apparently peej wasn't because this post is about his entry that didn't win. I'm not about to divulge the winner because that is for someone else to do in a throwdown post of their own. You see for some strange reason as I was going through my pictures to post about the throwdown well, you see I have only 6 or seven pictures. And most of those are of an empty kitchen so don't expect to see any other pics other than these of peej getting his entry ready.
He starts by trying to find a sharp knife.
I see that pesky faucet has shown up again. I promise this will be the only time we see it tonight. Also if you notice the people might appear to be moving in the pictures. That is because I didn't use a flash and people just won't hold still long enough. I prefer to call them "action" shots.
Once he finds suitable knife to use peej starts by cutting up some onions.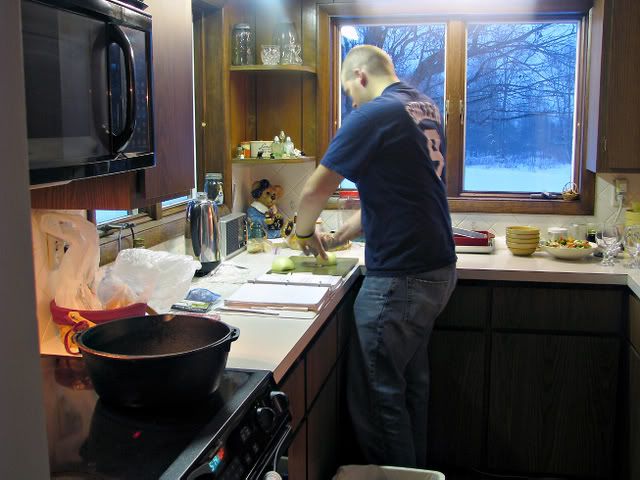 I see he decided to use my cast iron dutch oven. Good choice. What do you suppose he is making. Let's continue to follow along.
He just added some sausage to the dutch oven.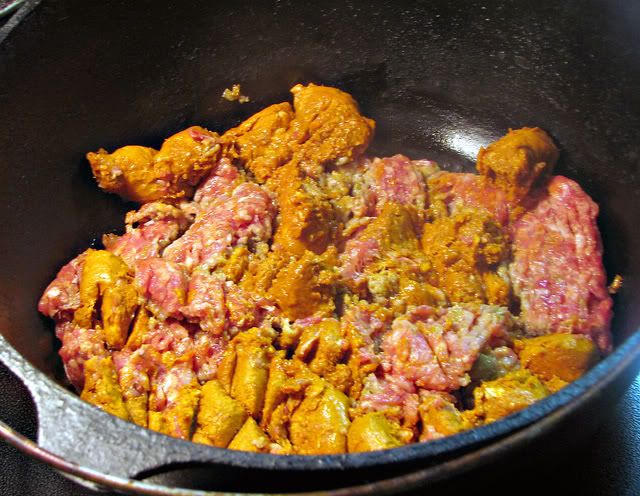 Hmm, it's a mixture of Johnsonville Sweet Italian Sausage and Chirizo. What do you think he is up to?
Next is one of those patent "action" shots of peej stirring the pot, something his grandpa likes to do but with him we aren't talking about cooking.
Let's see what's next?
Chopped up onions, garlic, chili powder, cumin, Emeril's Essence (that's what is in the big spice thing a ma jig), sausage browning in the dutch oven and he has my bible of cooking opened up to what page? Sausage chili! Holy cow he's cooking my sausage chili for the throwdown. If he wins I hope I get half his winnings.
Next he adds all the ingredients to the chili.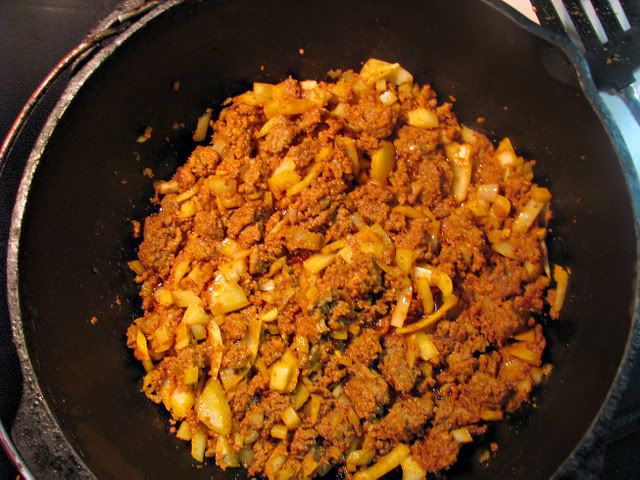 What's this? Look at all these snoops trying to get a peak at what he is doing.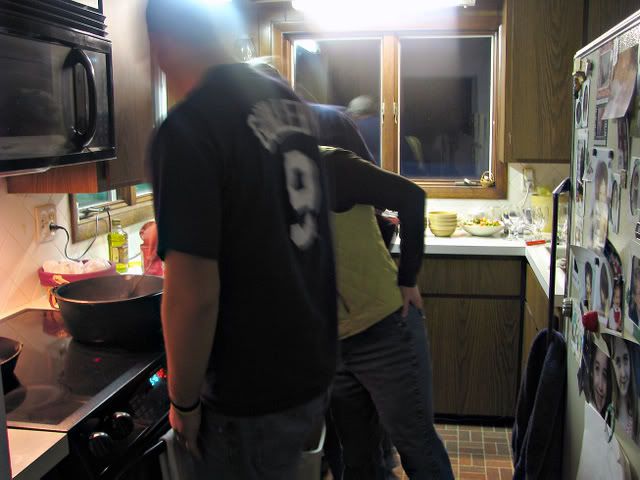 Isn't that like cheating? The only thing that could be worse is if he decides to serve his chili in bread bowls. Now that would be cheating since we decided bread bowls are
not
to be allowed in this throwdown. DO YOU HEAR ME BIG SISTER?
And what is this little ingredient?
Beer? But he isn't old enough to be drinking beer, how did he get beer?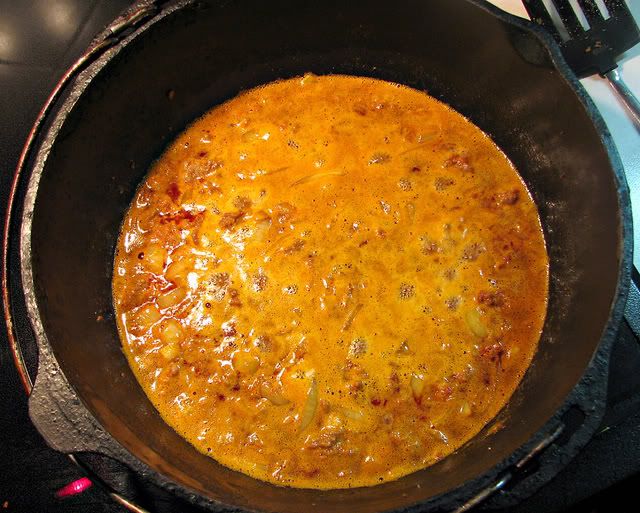 Oh that's what it is for. Now I understand, lucky for him I was thinking about grounding him until he was 21.
Next he adds the beans, not just any old brand of beans he had to have Bush's Beans.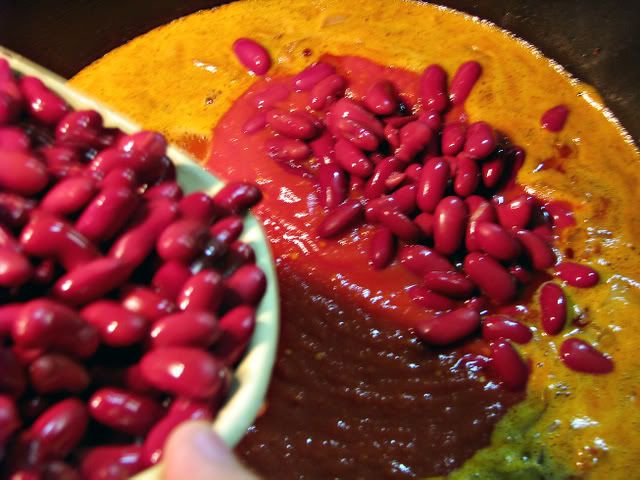 And what's this?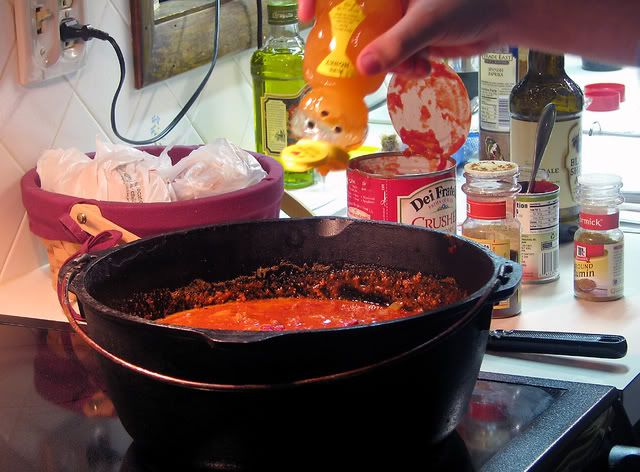 Honey? Honey in chili? Now I've seen it all.
And this is what it looks like when he is done.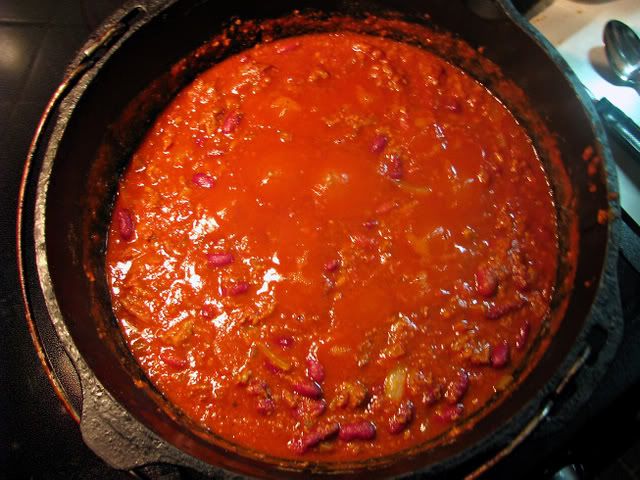 Here he is explaining the finer nuances of making chili with beer and honey to his aunt and uncle.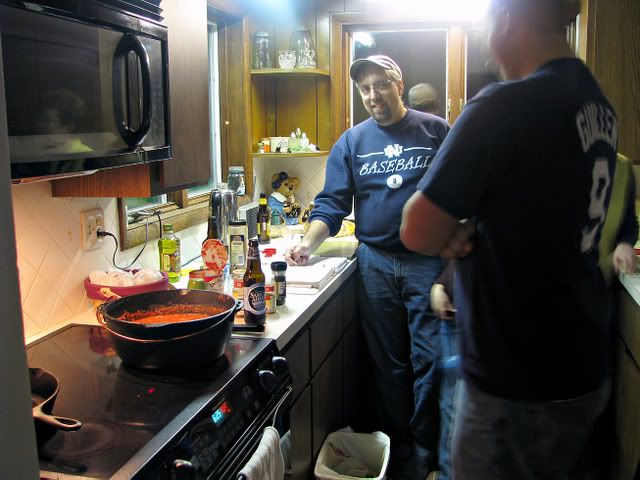 I'm not sure they're getting it.
I'm not a big fan of chili but I do love that sausage chili. I could tell you a story about how three of us ate a pot full of this chili once while deer hunting and how one of the hunters got out into the woods the next day and decided it was time to go and......why don't we leave that story for another day.
Stay tuned because tomorrow will be pictures of the other side of the family on Christmas Eve.