I don't know if everybody knows or not but I am a bachelor this weekend. I put the wife on a boat Friday and sent her across Lake Michigan to visit her family in Michigan. She is due to sail back into Wisconsin on Monday.
So what am I doing this weekend in Wisconsin? Well I thought I would take advantage of being alone and study for an upcoming test. This is a perfect weekend for that. While she is gone I thought I might take advantage of the situation and cook some of the things I like and she doesn't.
We'll start with Friday night. After work I went to Sheboygan to the local fish market and bought some of my weekend supplies. I was looking for fresh shrimp and scallops, as fresh as can be found in Wisconsin anyway, for a couple of my meals for the weekend.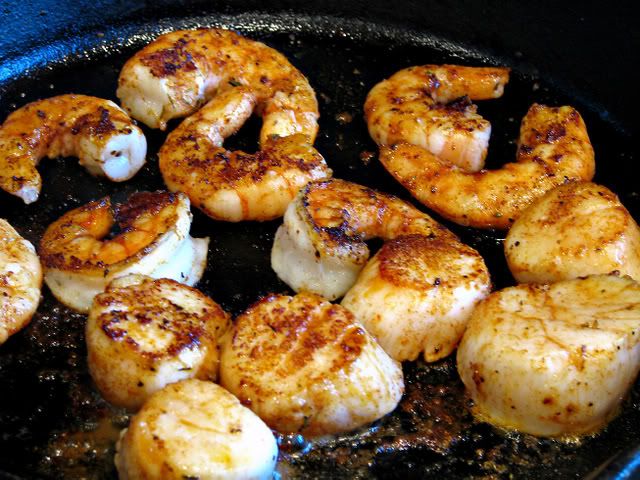 I love my shrimp and scallops so for Friday night I thought I would do a combo meal with them. I could have ate them right out of the frying pan but I had other ideas. I combined them with some onions, red peppers, garlic, white wine, olive oil and whole wheat pasta and came up with this...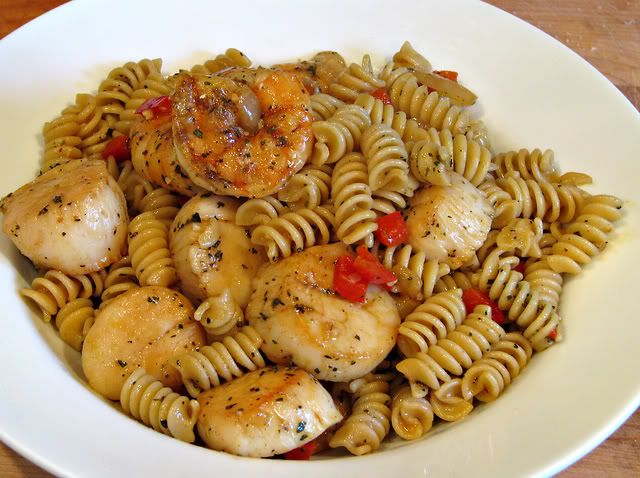 This is a pretty darn good start to my weekend don't you think?
Saturday morning I get out of bed and the first thing I decide to do is write my post for last Sunday's Sunday Dinner Episode. While doing this I eat my breakfast which consist of extreme labor to make.....
Cinnamon Life Cereal. I have one bowl a week and it is every Saturday. I can't tell you how many years I have been eating Life cereal in one form or another but it has been a long time.
After the early morning chores are done I load up the garbage and take it to the dump. On the way back I decide to stop at our local market in Elkhart Lake to purchase a couple of items I will need later in the day. While I was there I couldn't help but stare at the doughnuts on the counter. I decide to by one and the lady says "We have some more back here in this box. They just came in and are real fresh." I checked them out and said "Give me that one."
Apple fritter, my favorite of all time. This is the plate 30 seconds later.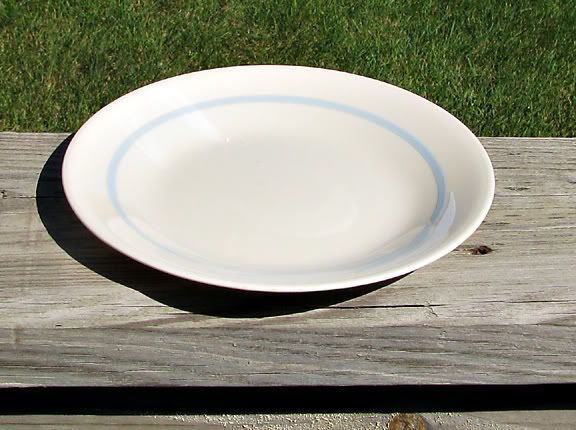 Nothing wrong with a good apple fritter. I glad all I bought is one because I don't need one of these everyday.
It's a beautiful day outside so I decide to mow the lawn before the Michigan game comes on. Since I have been busy for the last two weeks the lawn hasn't been mowed for three weeks. I think it needs it.
Win or lose this is an exciting day in Michigan football. This is a team that has been rolling along in the same direction for the last 40 years. Not that it was a bad direction but let's face it, it was time for a change and change Michigan did. They hired the guru of the spread offense so I was excited to see how they looked. The team they play first, Utah, has a lot of returning players who a very capable of running the spread offense. This is a good first test. Michigan's offense came out struggling and the only reason the Wolverines got the first 10 points is because Utah gave the points to them. The offense is really struggling and the defensive isn't doing any better. Utah is showing Michigan how to run the spread offense. The defense looks like they are a half a step slow right now. I thought the best part of the Michigan team was suppose to be the defense. The first half was brutal, I expected the offense to struggle but not the defense. I am disappointed.
But time for a half time snack.
Little sister brought my attention to this snack and when I saw them in the store I thought I would try them. Not bad for a potato chip. I like the pepper on them. Several years ago I switched from salt to pepper on my french fries so it makes sense it would be good on potato chips too.
On to the second half. Utah scores a quick three points but that is where the Utah scoring stops. The Michigan defense takes over and play great the rest of the game. This is the defense I thought we would see. The offense still struggles but Michigan changes quarterbacks and all of a sudden the deep threat is back. The new quarterback, Threet, has good accuracy. This will start to open up the running lanes if they can start to complete some down field passes. The offense starts to show some spark but it is to little to late and the final score is Utah 25 Michigan 23.
I'm disappointed but I also expected Michigan to play this way. They will get better as the weeks go by but I don't think Rodriguez has the quarterback he needs for his system right now. I am sure his number one priority will be a spread offense type quarterback for his recruits next year.
Now that the game is over it's time for dinner.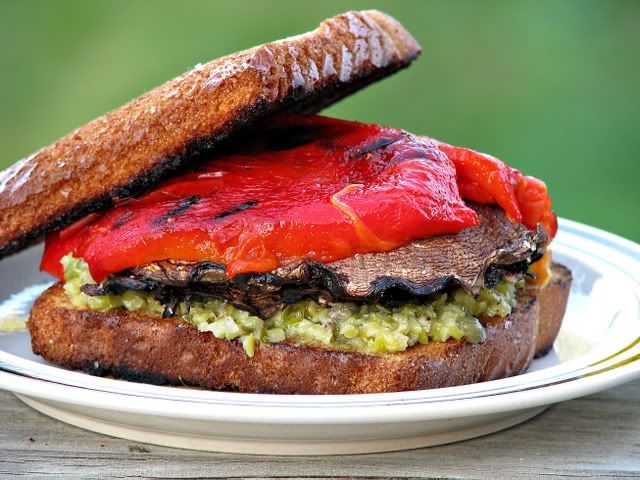 Portabella mushroom burger. Another food item the wife doesn't like. How does anyone get along in life without seafood and mushrooms? I can't imagine. This turns out to be a pretty darn good burger. A tapenade that includes anchovies, olives, onions, garlic and olive oil, portabello mushrooms (of course), fire roasted red peppers, and toasted buns.
And what is dinner without dessert? Actually I rarely eat dessert but not today, look what I have...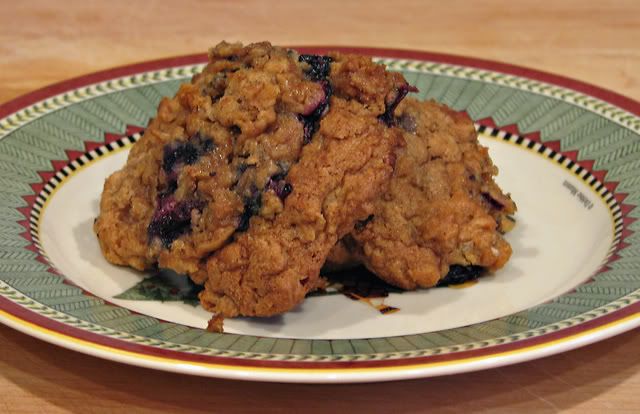 Oatmeal blueberry cookies. There isn't much to say here except for they will give the best chocolate chip cookies a run for their money. These are so good you will need to hide them so nobody else knows you have them.
That is about it for a Labor Day Saturday. I ended up falling asleep last night so I don't know who won the race I was watching on TV. Pretty exciting around here.