I have been looking forward to this day since late April. Why? Because today is the day I finally get to go the Miller Park where the Brewer's play baseball. And who are they playing today? How about the Chicago Cubs. I admit the Tigers are my favorite team but the Cubs come in a close second. As far as the Brewer's go I could care less about them. It has been great at work this week because everyone there are Brewer's fans. Sure does suck to be them this week because today the Cubbies were going for the sweep.
I was wondering what kind of crowd there would be today as I was driving into the stadium parking lot. Just about every other car had an Illinois license plate. Driving in I saw a couple of Cubbie fans with their brooms.
I did like how easy it was to get into the parking lots at Miller Park even though it took about a half hour. Once parked it was a matter of finding the people I was to meet there so I could get my ticket to get into the stadium. And let's not forget where we park.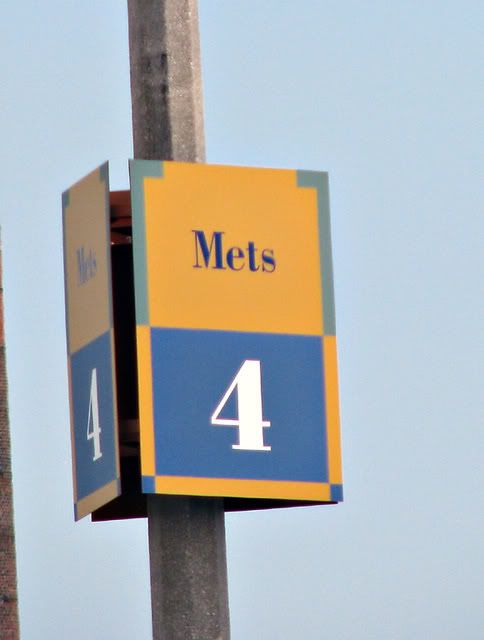 If your memory is like mine it is not a bad idea to take a picture.
I started towards the stadium and the first thing I notice is all the tailgaters in the parking lot. There was the smell of bbq in the air, lots of beer, and people tossing footballs around.
This may not seem unusual to the people who go to football games but I have never seen tailgating to the extent there was today in Milwaukee. Most of the tailgaters were once again Cubs fans.
There were corporate tents set up all around the parking lots. There is even toilet facilities out there and sausage stand to buy a brat on the way into the game.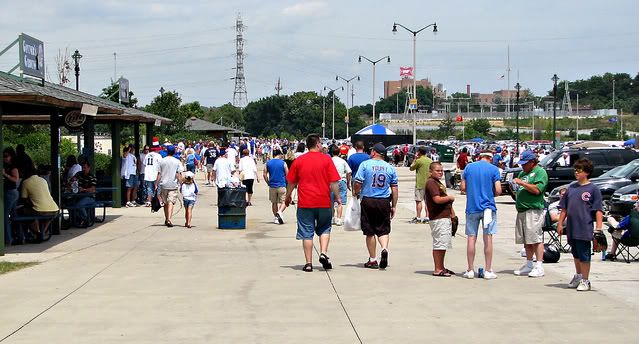 One thing in common with PNC Park in Pittsburgh is you have to cross a bridge to get to the stadium.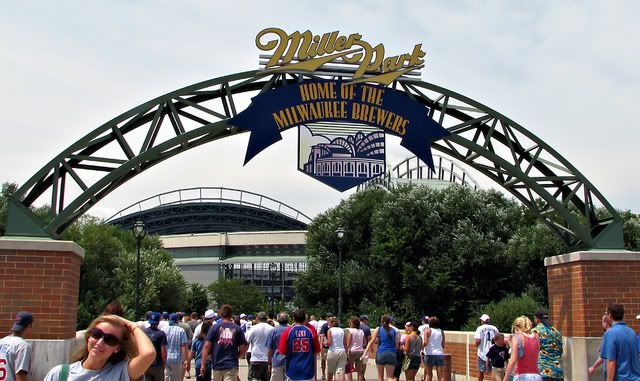 Now granted it isn't near as spectacular as crossing Clemente bridge but it is a nice bridge. It doesn't go over a river but actually crosses over Miller Parkway which is the road that brings you to the stadium.
Once across it is into the stadium. More on this tomorrow because it is late tonight and I need to go to bed.